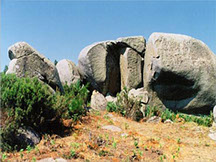 In the mountain area of the territory of Davoli, characterized by a monolithic formation, called "Stone of St. Anthony", there are the ruins of two monasteries Basilian testimony of monasticism greek.
Both were built in the vicinity of existing Byzantine monasteries and were characterized by the placement of small churches 'outside of the perimeter of the convent.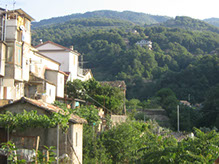 A bit of history ... The nature of the place has always had a decisive role in the history of Davoli.
Clear waters and cristallinedel Ionian Sea; the golden sands of the coast; the fertile coast, enlivened by the breeze and the west wind; the austere mountains, shady and fragrant
The first settlers of Greece found in this area easy landing, in the seventh century BC, settling near the rivers Alaca and Ancinale , the navigable river Cecino , appointed by T. Livio. The name of Davoli, originally Daulis, comes from Daulia, city of Phocis, from where they would leave the founders.
The territory. Leaving the village of Davoli, in a few minutes you can reach the lush forests that cover the mountain close to the town. And so it goes through the vineyards to reach the majestic pines and beech trees, reaching, and often exceed 1000 meters above sea level.
A variety of landscapes, a nature still intact, scenic trails and countless streams that flow from the many mountain springs.
Here flow the pure and the cool waters of the Source of St. Anthony.